The Aigües de Barcelona (Barcelona Water Authority) are behind the latest virtual reality experience in Barcelona, called The Zone of Hope. However this one has a twist. It is a virtual reality experience about climate change that allows you to travel in time and understand the environmental impacts in 2038, 2068 and 2093. Naturally, this was something I couldn't refuse!
The experience follows the life of Violeta and it starts in a dark room with a short video about her life and how climate change impacts her. She has committed her life to combating climate change by researching the impacts on nature and wildlife.
Next, its time to be suited up for time travel! I put on the virtual reality gloves, anklets, backpack and of course, goggles. The room transforms into a futuristic room with flashing arrows on the ground and as I look at my arms, it shows that I am in a white body suit with yellow detailing.
2038: Melting Arctic Glacier
A woman in a white body suit emerges and introduces herself as Violeta. She is our guide for the experience and ushers us into a time portal. We emerge in a glacier. The space is cold and even the walls feel like a melting glacier. Before our eyes we see a beautiful Arctic glacier begin to melt and crumble. We see a Polar Bear in the distance and Violeta tells us that habitat destruction of the glaciers is causing Polar Bears to become so desperate for food that they are known to eat their young. We see the impact of a global warming in a time span of a few minutes. I have to admit, by this point I was crying and my VR goggles fogged up a bit. It genuinely felt like I was there in the glacier watching a Polar Bear's habitat being destroyed.
2068: Barcelona Floods
Next we step through the portal and end up back in Barcelona. But this time it is 2068 and Barcelona is flooded. Violeta explains that erratic weather events and sea water rising has caused more and more flooding. The place looks like Venice in chaos! We see local landmarks covered in water and emergency boats and helicopters trying to save people trapped in houses.
2093: Reservoir Desert in Barcelona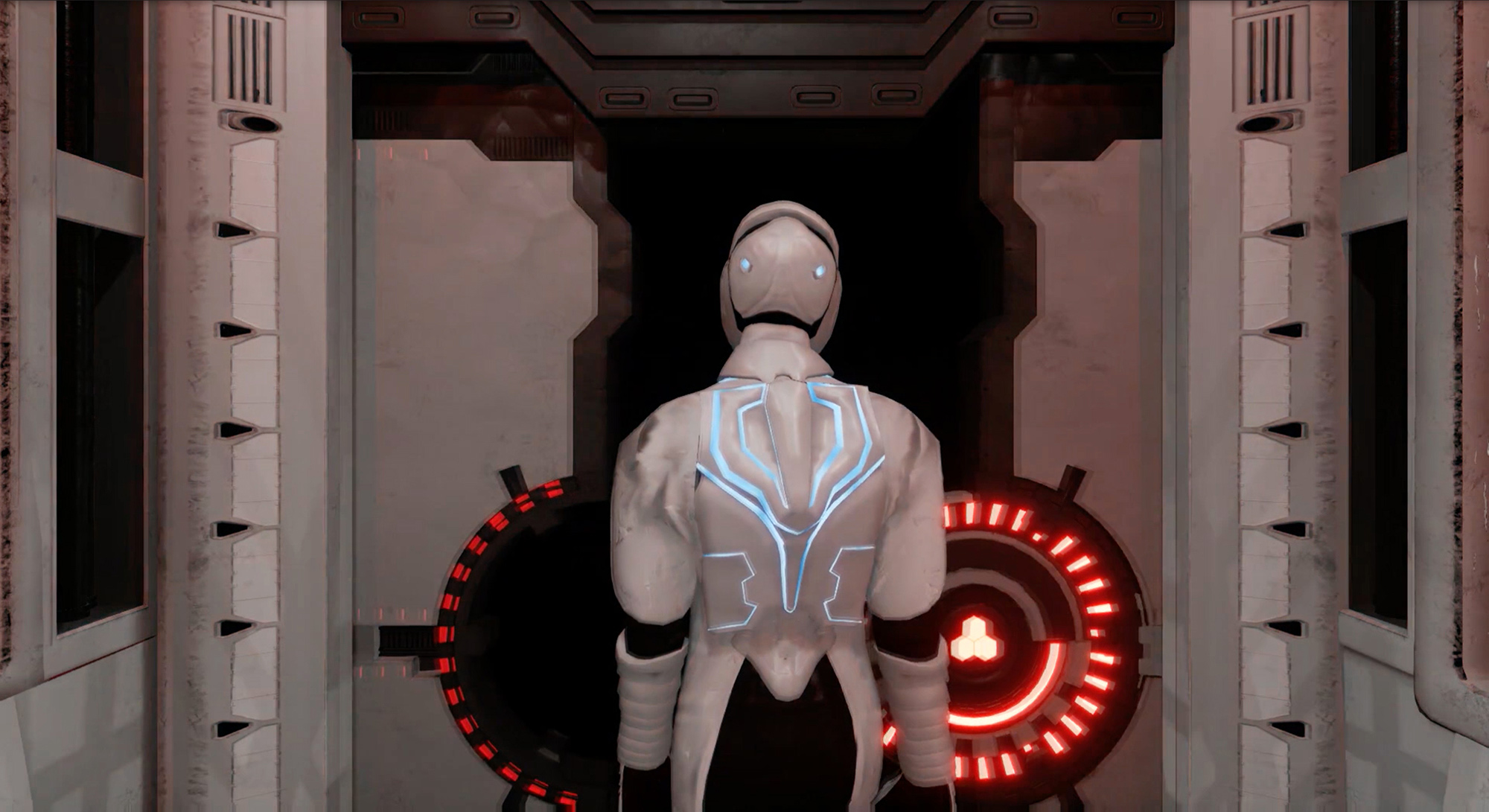 Next we go to another extreme, the desertification of the Catalan La Baells reservoir. This, once thriving reservoir surrounded by trees is now a hot dust bowl. The temperatures soar to over 40 degrees and the room feels hot and thick. Violeta told us how she remembers canoeing in the reservoir with her dad when she was younger, but now you cannot even be outside for more than 5 minutes due to the heat.
Violeta told us we could put our hand out and touch the railing to see what it would have been like back when she was younger. As I looked around the room I could see the transition of a beautiful blue body of water with healthy forests lining the mountains around it and then the stark reality of a red, dusty expanse with nothing but some dead tree trunks. It reminded me of the flats of the sand dunes in Namibia when I was there in 2016.
Violeta now walks us back to 2019.
The Aftermath
I walked out feeling heavy yet in awe of what I had just experienced. I was shocked at how real everything felt, especially the glacier. After our virtual reality packs were handed back, we watched a short video about how we can act on climate change. This was just what I needed as I was feeling a little overwhelmed by the whole situation!
After the video we were ushered into a room with screens where we answered a short survey to understand what we would do differently as a result of the experience. Here were some of their options:
Use Renewable Energy Resources To Generate Heat And Electricity In My Home.
Reuse As Much As Possible And I Will Recycle All The Waste I Generate.
Buy Local Products And I Will Buy In Bulk To Reduce The Waste I Generate.
Make Donations To NGOs And Projects That Work To Prevent Climate Change.
Involve The Company And The School In The Fight Against Climate Change.
Become A Vegetarian Or I Will Try To Eat Very Little Meat.
Campaign Against Climate Change Wherever I Go.
Use Water As If It Were A Precious Commodity, Because It Is.
Overall
The experience exceeded my expectations and it had a lasting impact on me. I spoke to the team afterwards and they said there has been over 17 000 people come through the experience. It is open until November 2019 and I hope they do more installations around the world. They said they have had University and High School students, corporates, NGOs and locals in to experience the impact of climate change in their region. Using new technology to help people actually visualise and understand how our actions will impact the future climate is an important and compelling way to spark the action we need. The main message I got from this experience is that it is not too late to act, but we have to act today! What will you do?
You can see more about the Zone of Hope here.